THE NEW MINI VACUUM PUMPS WITH COMMUNICATION IO-LINK SERIES LEMAX IO FROM COVAL
100% IO-Link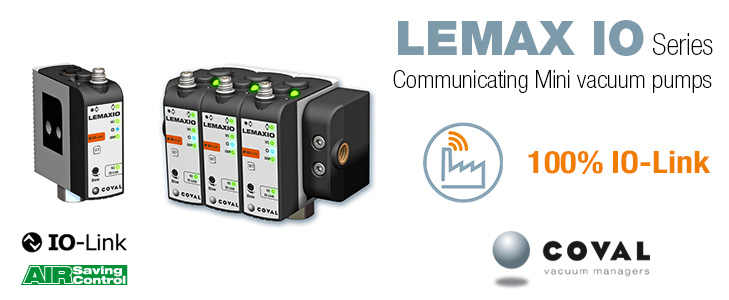 The new mini vacuum pumps with Communication IO-Link, LEMAX IO series, integrate all the necessary functions for optimizing vacuum management in a smaller size. They combine performance, energy savings and communication to adapt to multiple applications.

IO-Link, ease communication
The IO-Link communication interface of the COVAL LEMAX IO mini vacuum pumps provide fast and cost-effective installation, continuous diagnostics, centralized configuration and efficient communication with higher level protocols (Ethernet/IP, PROFINET, EtherCAT...).
The new LEMAX IO vacuum pump is designed to permanently communicate with its environment, ready to play its part to the fullest in Industry 4.0.
Energy savings
The ASC (Air Saving Control) technology, which provides intelligent vacuum regulation by stopping air consumption when the set vacuum level is reached, offers up to 90% energy savings. Ease of use

Compactness & Ligtness
The LEMAX IO integrates all the main functions in a single module: pressure control, pilot solenoid valves, non-clogging through-type silencer, electronic vacuum switch, M8 connector (Plug & Play direct connection), and adjustable blow-off. Its reduced size and weight (130 grams) enables it to be connected as close as possible to the suction cups for reduced gripping time without drop in pressure.

Modularity:
the LEMAX IO adjusts itself to the needs of the integrator and user. It is available in  three standard nozzle diameters (1; 1,2; 1,4 mm) allowing an intake flow of 29 à 70 Nl/mn (85% maximum vacuum).
It can be provided with a normally closed (NC) or normally open (NO) solenoid valve. This alternative is recommended for applications where safety of the gripped piece must imperatively be ensured during an inadvertent power failure, this even in the case of leakage (fail-safe).
It is possible to combine several LEMAX IO on island assemblies with a single pressure supply.
. Discover LEMAX IO range  
. Calculate your energy saving with LEMAX IO