Virtual Vacuum Applications
COVAL Augmented Reality App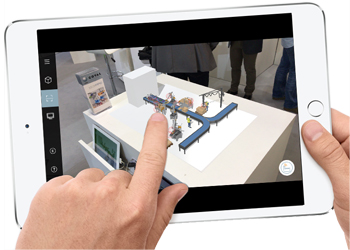 Browse on your tablet, a 4.0 manufacturing line in motion.

Augmented reality to showcase vacuum gripping solutions, and the Industry of the Future.
This interactive application makes it possible to discover the entirety of a packaging line, from the initial primary packaging to palletizing at the end.
Augmented reality provides total immersion within the line and discovery of all stages of the process, as well as different applications for vacuum gripping.
To do so, aim for a "marker" image, which corresponds to the front cover of the COVAL catalog or to the image of the packaging line in our Packaging brochure. If these items are unavailable, you can download and print the "marker" image directly from the application.

In "Virtual Tour" mode, you will find interactive content detailing the solutions used at each stage of the packaging process.

COVAL - Virtual Vacuum Applications is a free application for tablets and smartphones downloadable from the App Store and Google Play.